Electrical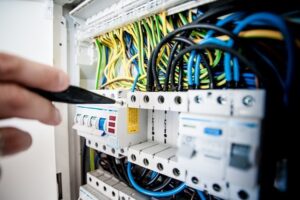 Single Line Drawings
Capacity/Load Studies & Gear Sizing
Power Metering
Wiring Diagrams
Electrical Safety
Single Line Drawings
Are your facility's single line electrical drawings out of date? Or do you need to create them from scratch? We can come on-site, trace your wiring, and document your facility electrical gear into a detailed, accurate single line drawing.
Capacity/Load Studies & Gear Sizing
Need to better understand the capacity and load of your facility's electrical gear so you can see whether you can add new equipment? We can perform capacity studies by performing power load analysis and calculations for all equipment connected to your gear. Need to be more exact? We can connect power metering to your equipment to measure actual load over time. We can then provide you a matrix showing all the connected equipment relative to capacity so you can make informed decisions for your electrical upgrades.
Power Metering
Do you want to get a better understanding of actual power usage from your equipment? We can connect power metering to your electrical systems to provide voltage, current, and harmonics data over time.
Wiring Diagrams
We can update, modify, or create wiring diagrams for your electrical enclosures.
Electrical Safety
We have a thorough understanding of National Electric Codes such as NFPA 70, OSHA electrical safety, and arc flash safety requirements. Let us help you make sure your systems