Project Scope Development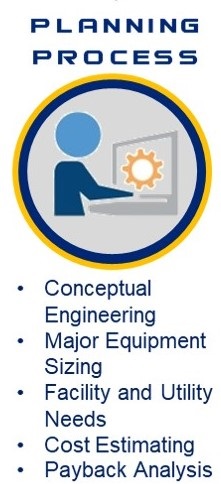 Have an idea for a project but don't know where to start? PTS can use our experience in numerous industries to develop a conceptual scope of work for your project. In the early stages of a project, it's critical that a scope of work is achievable with the budget that you have available to justify the project. From the design basis document to the installation specifications, we provide the documentation to protect you from cost overruns and to maintain project controls.
Conceptual Engineering
Before you settle on a solution, you may need to evaluate multiple options. PTS can perform preliminary conceptual engineering on multiple options and make a recommendation for you so you can make an informed decision.
Equipment Layouts
Are you sure it will fit in your existing facility? Are you sure you will not need additional capital to make changes to your facility? Let's lay it out in CAD; so even if we do decide to make some changes, we can see what the impact will be on your project.
Major Equipment Sizing
You may already know what equipment you need, but aren't sure how to size it. We have the engineering resources you need to perform the calculations to size major equipment. Is there a long lead time? You may want to order major equipment early while we finish planning and final engineering. We can help you make these decisions so you can condense the timeline of your projects.