Combustion Upgrades & Surveys
Combustion Safety Surveys & Safety Audits
Combustion Upgrade Design & Engineering
Combustion Upgrade Project Management
Combustion Controls Upgrades
Combustion Upgrade Execution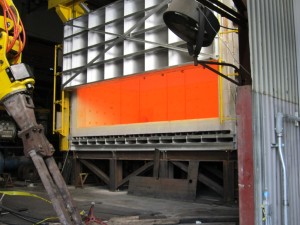 Our team has extensive experience with combustion upgrades and systems including furnaces and ovens from our years of experience in the Metals industry in both Cleveland, Ohio and nationwide. It is critical that your facility is compliant with NFPA 86 safety standard for ovens and furnaces. Whether you are installing a new industrial furnace, upgrading an existing one, or just working to create a safer plant, you need someone on your team with in-depth knowledge of combustion system design and safety compliance. You can rely on our engineers and project managers to keep you compliant and safe while designing combustion upgrades to meet your needs and budget.
Combustion Surveys & Safety Audits
PTS can perform combustion surveys and safety audits of your industrial furnaces and ovens to identify any NFPA 86 compliance issues or recommendations. We will gather some information from you about your equipment, then schedule a day and time to visit on-site and perform our combustion survey. Once on-site, we will audit all of the information that we need from the combustion furnace, usually while it is running. Then we will perform our analysis and provide you a detailed report with any findings.
Combustion Upgrade Design & Engineering
Do you want to modernize your industrial furnace or oven to improve efficiency, reduce NOx emissions, or improve controls and connectivity for a smarter manufacturing plant? PTS can provide design and engineering services to upgrade the combustion air/gas piping systems or your combustion furnace controls system. We can provide the drawings needed for the upgrade and can perform a complete design-build project. We are not affiliated with any OEM's, so you can rest assured that we will select the best materials for the project based on our years of experience with many types of furnaces. Our team will make sure any upgrade design is compliant with NFPA 86 and meets your project requirements to achieve your ROI.
Combustion Upgrade Project Management
Do you already have an upgrade design and need someone to manage the project? Our project management team is experienced in combustion furnace upgrade projects and can turn your design into reality. We have relationships with furnace manufacturers and component suppliers that can help you achieve the best pricing. We can supervise construction to make sure that the installers follow the drawings and get it done right the first time.
Combustion Controls Upgrade
Combustion furnace controls requirements are constantly evolving. Our controls engineering team specializes in combustion furnace controls design and upgrades. We have experience with a variety of PLC's and burner management systems and can select the best equipment for your project. We will design your system and specify burner management settings to make sure your project complies with NFPA 86 and works efficiently.
Combustion Upgrade Execution
Once design and engineering is complete, PTS can execute your project to completion. We can procure materials, assemble and wire combustion control enclosures, assemble piping trains, and supervise on-site installation of the system to comply with the design drawings and NFPA 86. Rely on our experience to make sure you are compliant and safe with combustion safety standards.
Whether your industrial facility is in Cleveland, Ohio, northeast Ohio, or nationwide, PTS can support your combustion furnaces and ovens with safety surveys, audits, and combustion upgrades. Whether you need help with engineering, project management & execution, or a complete design-build project, you can rely on our team's thorough knowledge of combustion safety codes to deliver a successful, safe project.