Control System Implementation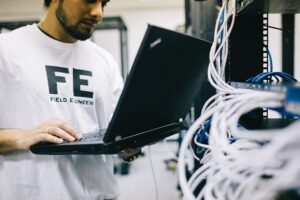 Once design and programming are complete, whether by PTS or others, we have the capability to implement the system into your facility.
Control Enclosure Materials Procurement
Control Enclosure Assembly
Startup/Commissioning
Control Enclosure Materials Procurement
Procuring materials for control enclosures can take up a lot of time for your purchasing and receiving personnel. Then you have to worry about taxes, shipping, invoicing, payments, and accounting for everything. Make your job simpler by having PTS acquire the materials needed for the project. Our network of suppliers and discounts often allows us to procure materials at a lower price than our clients, saving them time and money.
Control Enclosure Assembly
PTS is capable of fabricating and assembling all shapes and sizes of control enclosures. Whether we designed the enclosure or someone else, provide us with drawings and a parts list and we can fabricate, assemble, and wire the enclosure for you. Need the enclosure to be UL/CUL certified? We can do that too. Just let us know when you request a quote.
Startup / Commissioning
No controls project is complete until it has been inspected, tested, and proven to achieve the project objectives. Whether we designed and programmed the controls or someone else, PTS can come on-site for startup and commissioning of the system so you can be sure that it was done right.